Featured Decor Sponsor – S2 Event Decor
We are S2 Event Decor Inc., creators of "One of a Kind Events". Specializing in décor, design, creativity and all planning details. The event may be small, but the idea won't be. Add a little chic and a lot of unique to your next bash! We will research, price, shop, set up, clean up and more for your event. You don't have time to worry about the details. Let us take care of everything and you can enjoy your fabulous party!
What We Do
Décor planning & execution
Concept / theme consultation
Budget planning and management
Vendor selection
Contract assistance
Event / wedding itinerary
Rentals management
Hourly consultation
Master to do list
Guest list management
Personal shopping
Menus
Invitations
Hotel arrangements
Welcome Gifts
And more…

Types of events
Weddings
Birthdays
Dinner parties
Rehearsal dinners
Wedding showers
Corporate events
Galas
Non profit
Holiday parties
Baby showers
Banquets
Kids parties
And more…
---
Featured Swag Bag Sponsor – Real Layers Frosting
Lucy, Rose & Ana are the three that started it all.
​Avid baker Ana was whipping up a batch of her famous vanilla cupcakes for a birthday party with her giant, crazy-fun family in February 2015. She didn't quite have the time to mix up some of her homemade buttercream to top them with. Times like these she wished she had some ready-to-spread buttercream on hand.
Frustrated that so many ready-to-spread frostings included artificial additives and preservatives, and also didn't have the same great taste, she knew that there had to be a better solution out there. You know, that creamy, buttery, rich taste that real ​
Real ingredients. Real taste. Real Layers.
Our story
To provide our customers with convenient and wholesome baking products made with premium quality ingredients and a homemade taste.
buttercream is supposed to have? Fed up, Ana decided it was time to perfect her own delicious ready-to-spread buttercream frosting made with only whole food ingredients. From her kitchen in Parry Sound, she was determined to create a more delicious and wholesome alternative.
Encouraged by all the positive feedback and backed by her sisters, Rose and Lucy, Ana decided to produce and sell her gourmet buttercream frostings, working with professional food scientists and putting months and months worth of thought into what the next generation of ready-to-spread frosting should taste like.
Also aware of the increasing number of people with food allergies, the three sisters decided to produce a mouth-watering, indulgent and creamy frosting that is also peanut/nut-free, gluten-free and shelf-stable. After a year's worth of tasting (yes, we know – SUCH hard work!) and experimenting to get the most delicious frosting possible, the sisters are proud to introduce their Ready-to-Spread Gourmet Buttercream Frostings – A convenient, wholesome choice for baking, cooking, snacking and just about any other possible way you can think of!
---
Featured Swag Bag Supporter – Renaissance Noir V.S. Brandy
Renaissance Noir V.S. Brandy has the privilege to release twelve hundred bottles so that you can be in contact with an exquisite elixir made from pre winter grapes harvested from the blessed regions of the Niagara peninsula.  This beverage is blended and aged for a minimum of two years.
Brandy Renaissance Noir is a rare elixir. This masterpiece beverage is not for a cocktail drinker, on the contrary is for the knowledgeable drinkers with a demanding taste and good spirits. In addition, with Renaissance Noir Brandy you will experience all aromas and pallet notes in the anchor styled glass capsule that engulfs the spirit. Layers of fruit, floral and spicy wood character reveals themselves with time in the glass.
Therefore, without hesitation you will find a hint of mackintosh apples and rich caramel flavours on the viscous and unctuous palate with Renaissance Noir Brandy.
  https://www.renaissancenoirbrandy.com/
---
Featured Swag Bag Supporter – MOLINARD
The story of Molinard, the venerable Grasse perfumer is an interesting family history that has developed throughout five generations, forging a legacy with a passion for creation. It is not only the story of a perfume that has defies time, but also it is a luxurious item that has remained its values and maintained its exacting standards of excellence, quality and tradition.
The story of this Perfume began in 1849, when Hyacinthe Molinard, founded this company setting up a small company in Grasse to sell Eaux de Fleurs. Molinard´s shop was a quick attraction for the wealthy clientele, including Queen Victoria. Therefore, it became a shining beacon of quality French craftsmanship.
Today, Molinard is living its fifth generation of perfumers with the leadership of the first woman executive, Célia Leraouge-Bénard, a passioner of perfumes, with nature for creativity and with an artistic soul. Therefore, now Célia has the opportunity to share her vision of perfume since the female perspective with the world.
According to Célia Leraouge-Bénard, what makes the wealth of their perfumes, it is the materials which compose them and this happens due to the fact that Grasse enjoys an extraordinary geographical position and an incomparable climate, creating unique lands and soils that are perfect for growing perfume flowers.
That is to say, exquisite ingredients are used to make incomparable perfumes and that is the impetus and quintessence of all Molinard creations. Nirmala, of Molinard is a good example of an exquisite addiction to epicurean sensuality.
---
Featured Product – Social Lite Vodka
SoCIAL LITE Vodka cocktails are naturally refreshing and naturally guilt free. These lightly carbonated cocktails deliver a crisp, clean taste without any sugar, sweetener or artificial ingredients. At 80 calories per can, it's the perfect drink for any occasion.
SoCIAL LITE Lime Ginger is flavoured with 100% natural lime and ginger flavours. Strong citrus aroma and premium Canadian vodka provide a smooth and clean finish. Crisp and refreshing, with the taste of a fresh squeezed lime wedge and a ginger bite to finish.
SoCIAL LITE Lemon Cucumber Mint is flavoured with real lemon juice concentrate and 100% natural cucumber and mint flavour. With a fresh cucumber aroma, citrus tang and a clean mint finish this blend feels like a relaxing day at the spa.
Our newest family member, SoCIAL LITE Pineapple Mango, is flavoured with real pineapple juice concentrate and 100% natural pineapple and mango flavour. With a bright nose of pineapple and a delicious mango finish, this fruity cocktail is sure to send your senses on vacation to the Caribbean .  4% alc.vol..
The inspiration for SoCIAL LITE Craft Cocktails came to them while entertaining.  While they all enjoy a drink with friends, they also strive to make better choices.  From the very first cocktails crafted in their kitchen, their promise has never wavered: SoCIAL LITE Craft Cocktails are for everyone who loves a delicious drink without artificial ingredients, sugar or added calories.  In this spirit, all of their drinks are made with premium vodka, refreshing sparkling water and 100% natural flavours.
http://www.sociallitevodka.com
---
Featured Product – Theobroma Chocolate: gourmet and organic 
At the heart of the approach of Josée Vigneault and Jean-René Lemire, a couple in life and co-founders of Theobroma Chocolattm, there is a philosophy that favors a balance between the quality of products and the harmony in which they are developed.
Founded in 2006 in the Quebec City region, Theobroma Chocolattm specializes in the development and production of GMO-free and gluten-free chocolates, concocted with pure, natural and fully organic cocoa bases. 
The company stands out today as the owner of Ecocert's first organic processing plant in Canada. It favors partnerships with producers recognized for their expertise as well as with master craftsmen and companies that have developed processes to preserve the qualities of natural and organic ingredients.
The philosophy advocated by Theobroma Chocolat is to focus on a balance between the quality of our products and the harmony in which they are d éveloppés. Theobroma Chocolat's philosophy also emphasizes mutual respect between the human and physical environments. 

The production and use of recyclable and renewable materials are priorities for Theobroma Chocolat. We are constantly on the lookout for novelties that can promote sustainable development.
https://theobromachocolat.com/
---
Featured Product – Tea Pigs 
Nick and Louise started teapigs in November 2006. They met whilst working for a really big tea company, where they learned all about tea and drank lots of it. And the more they learned, and the more they drank, the more they came to realise something: that there's a whole world of quality teas out there that simply aren't getting the attention they deserve. And so teapigs was born.
Nick describes himself as a tea evangelist (although much nicer than those shouty ones on American TV).  Louise, an experienced tea taster who has travelled the world tasting teas, is a self-confessed tea addict (not seeking rehab).
Together they founded teapigs and, since 2006, the teapigs team has grown a little. As well as Nick and Louise, there are now Nicole, Sofia, Reggie, Hannah, Hayley, Becky, Amy, James, Valerie, Tori, Juliana, Rosie, Sharon, Laura, Junior and Harvey the dog. And now, teapigs is happy to be establishing a business here in Canada! The mission here is the same – to get the nation drinking the best tea.
---
Featured DJ – DJ HPang 
DJ HPang is a very versatile DJ who spins a variety of different genres including hip hop, rnb, oldschool, dancehall, soca, Latin, top 40, house, lounge, edm, soul and funk. He earns his respect by carefully reading his crowd and understanding exactly what they want to hear. His smooth mixing and silk like transitions will definitely keep his guests on the dancefloor. And his timing on those bangers will most certainly get them jumping!
DJ HPang has played in numerous venues in Toronto and the surrounding area. He caters to all kinds of parties, whether it would be something as small as a house jam to something as large as a corporate/wedding party.
DJ HPang makes sure he keeps up with the latest trends in music to ensure his style is fresh and exciting for his clients. His number one goal is to ensure customer satisfaction.
---
Featured Vendor – Claudette Losier
Born and raised in Oshawa Ontario in 1963. Claudette took art through High school and won the Grade 13th art award and sold her first oil painting for $40 of a Old Dutch Scene with cheese still life on table.   Claudette later studied art at Brock University and received her Honours BA in Fine Arts in 1989.   Brock University also purchased her "On Your Mark" chalk drawing from her graduating show.  Since 2005, Claudette has been pursuing her art career full time that also includes teaching and modelling for art classes.   There is a need in me to create and have a sense of connection with the Creative Spirit and to beauty, and through my art to pass that inspiration for something greater than ourselves to others.   Losier's floral paintings have been described as "breathtaking splendour of pure colours in the abstract form of flowers, created with richly patterned light with an abandonment to patterns in nature." However, she is not strictly a floral artists and likes to create art using various subject matter such as athletic figurative, landscapes, still life, city scapes, and transfer art.
She has won art awards in Juried Shows in Ontario including 2 best in shows, a Gerald Gunter Humanity Award, plus one Honoury Mention in International Juried show on-line, and recently in 2011 the Toronto City Purchase Award of transfer oil painting "CinderPoppy."  In 2012 her painting "Night Vision" was accepted and purchase by Dundas Valley School of Art for their juried event called Artist's Connection and will travel through the Hamilton Wentworth Elementary & Secondary Schools for three years or longer.  In 2013 she received Honorary Mention Award for "Give Us Our Daily Bread" at the Women's Art Association's 117th Juried Show at the Art Gallery of Hamilton. Also in 2013 she was contacted by Hamilton Philharmonic Orchestra's Composer in Residence, Abigail Richardson-Schulte, for a portrait painting of local Hamilton person to inspire her new piece for orchestra music based on Hamilton art. Claudette painted new painting of her friend Robert on Barton Street that was exhibited on April 20th on the HPO concert entitled "Fiesta". In January 2014, Claudette's painting "Night Vision #3 was purchased by the Ontario Government as part of their permanent collection.
Losier's art has been published: 2004 TVCOGECO 10 minute interview tape of show "Where Beauty Lies…", 2009 book "Neopop Realism Starz 21st Century ART" by Nadia Russ, in the Elaine Fleck Gallery Spring and Fall catalogues since April 2010, the Arabella Spring 2013 magazine article "Artists Who Paint Flowers", and just recently in the Hamilton Tourist 2013 magazine with her new city painting "Busy Intersection" on same page with letter from Minister of Tourism.
Her art is selling at: Tagart Gallery in St. Catharines, Elaine Fleck Gallery in Toronto through the spring and fall catalogue group shows, Burlington Art Centre Art Ectera shop, and in Hamilton at: Art Gallery of Hamilton's Art Shop, Centre3 in, Humblepie Shop, Hamilton Art Store and Lister's Arts.  She is a member of the Artists Network group in Toronto and exhibits in Toronto through this organization. Her art can be found in both corporate and private collections in Canada and the United States, and in governments such as the Toronto City Hall and Ontario Government.
https://claudettelosier.weebly.com
---
Featured Decor Sponsor – Enchanting Events Decor
Enchanting Events specializes in wedding ceremony and reception decor. Our elegant line of wedding decor includes, Room Draping, Custom White Dance floor, full lighting designs, linens, backdrops, head tables, mandaps, furniture rentals, tent rentals and more.

We pride ourselves in only using premium fabrics and accessories and are constantly coming up with new ideas and designs.

We are excited to launch our new line of Waterfalls, Fountains, Crystal and Glass Furniture and new Mandaps for the 2013 wedding season! Send us an email, give us a call and come by for a consultation. Let us be apart of your special day by allowing us to create spectacular decor for your next event!
https://www.enchantingeventsdecor.com/
---
Featured Entertainer – Cisha
19 year old singer songwriter Cisha was born in Burundi and grew up in Cape Town South Africa. She moved to Winnipeg, Canada with her family in 2015. Cisha started singing at the age of 9, and decided to become a solo R&B, soul, hip-hop artist in 2016. She has experience performing and recording various styles with many bands and musicians from around the world. With her newly discovered sound and style, Cisha has created a large platform in the music industry in Canada.
Cisha will be performing at our upcoming Christmas Cocktail Networking Gala on December 19, 2017  at Uptown Loft  – 2464 Yonge Street
---
Featured Travel Specialist – Before I Fly
Discover the Beforeifly difference
Catering to both busy travelers and not so frequent fliers, Beforeifly allows you to check-in to your flight just about anywhere, whether it be from the comfort of your own home, or en route via our mobile app or desktop.
First-time traveler? You will love the accessibility of having all your travel documents and important information right at your fingertips! With direct access to the rules, regulations, and climate of your travel destination, we deliver a world-class customer experience that lets you focus on enjoying your trip.
Your online travel concierge
Experience having your own travel concierge right at your fingertips. With the Beforeifly app, you have access to all of your travel information and more whenever and wherever you need it. No more keeping track of messy papers or waiting in long lines. We make traveling simple.
See Your Itinerary
Easily view your full itinerary and receive reminder notifications, flight delays, gate change alerts, and even weather updates and storm reports.
Easy Check-In
No more waiting in long lineups! Use our app to check-in before you arrive at the airport for a quick and easy way to travel.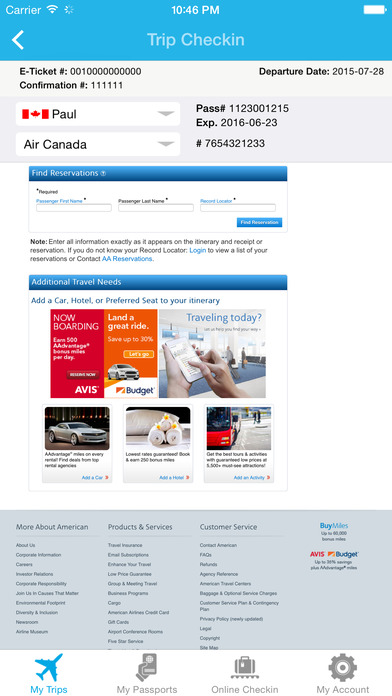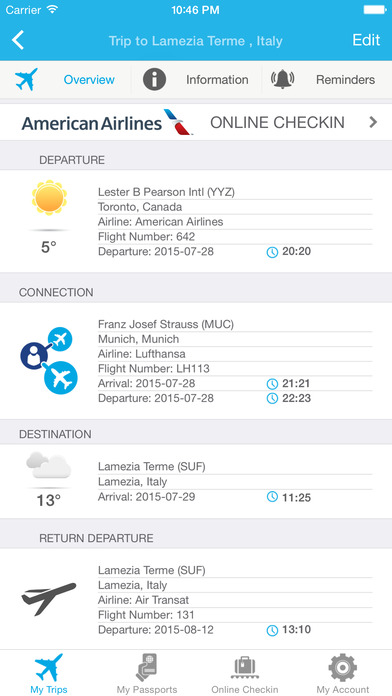 Passport Safety
Travel with peace of mind by using the app to securely hold a copy of yours and your family's passport information in case of emergencies.
Travel Rules
Be aware of all the specific travel rules and regulations of your destination before you leave so you can be as prepared as possible.
---
Featured Artist  – Sentimental Sound – The Paintings that speak for themselves.
Created in 2016 by Artist Karina Basacchi, Sentimental Sound uses fine artistry to create unique artworks that capture and play the audio of special moments. The combination of audio and visual senses gives the viewer a one-of-a-kind experience. While being visually engaged with the painting, simply press the button to hear your precious sound.
The paintings can be created from any special moment that you have on video, voicemail, phone recordings, etc… and include customized colour palettes. Whether you want a painting of your child's first word, plan a proposal, or have a message from a loved one; the possibilities and creativity are endless.
By re-creating special moments into audio artworks, your Sentimental Sound becomes a keepsake that you and your family will always enjoy.
---
Featured Caterer – Gourmet Cusine
We've been providing unparalleled fine catering and event planning services for private and corporate functions since 1991. From menu creation to presentation to event logistics, we deliver outstanding dining experiences that people remember well after they leave. As a full-service events company, we provide a variety of menu options, serving staff, bartenders, chefs, rentals, entertainment, valet, floral and decor.
Whatever vision you have for your event, our chefs and special events team will take it above and beyond your expectations.
http://gourmetcuisine.com/index.php
---
Featured DJ – Scottify
We are a Greater Toronto and Niagara area DJ Services
Provider for weddings, birthdays, corporate and youth events. The idea behind Scottify is simple. We partner with you to create custom playlists from genres that are sure to get the floor packed at your event. The playlists are a mix of music you love, music we love and music you might have forgotten that you love. The playlists are completely customized by you. We create several playlists for your event and on the night of your celebration you get to hear these songs mixed live by a DJ with real turntable skills. You pick the music playlists – you pick the DJ service you need and you get the peace of mind of knowing that your guests are going to experience an incredible night of music. If you need a DJ service for a wedding, birthday, corporate or youth event and you are within an 80km radius of Toronto – look no further than Scottify Events!
We are a new DJ service in the Greater Toronto Area and Niagara Region but we have over 20 years of foundations that are built on electronic music, chart music, worship music and event promotions. As we now focus our experience towards providing music for weddings, birthdays, corporate and youth events, through designing custom playlists with our clients, we are confident that we can deliver an exceptional audio and visual DJ package that you will be very satisfied with.
Additionally, one of our goals is to play music that will not offend anyone. All our songs are the 'clean' versions and specifically with Hip-Hop we do not play any songs that use derogatory language. The edited 'radio friendly' versions is what you will hear.
Thanks for taking the time to learn a bit about us. We look forward to speaking with you and creating the perfect playlists and DJ package for your party.
Scott
---
Featured Vendor – GreenGo 
With all of the options available on the rolling paper market today, why choose Greengo?
The reasons are quite simple really.
Greengo isn't just another rolling paper. We're about providing a top quality product for the best possible rolling and smoking experience. Our papers are thin, yet strong, with all natural Arabic gum that really sticks for an easy roll. They burn slowly and evenly with little to no taste for a great smoke. Greengo uses unbleached wood pulp because we feel it is the best possible material for rolling papers. Hemp may be a revolutionary, highly efficient, even miraculous fiber crop", however, we find that hemp rolling papers can be slippery, therefore more difficult to roll and have a distinct smell and taste when smoked. Utilizing FSC certified wood pulp is of the utmost importance to us and if you aren't yet aware of what this means we encourage you to educate yourself about the Forest Stewardship Council and what they stand for.
Forests are vital to the planet so we should do whatever we can to protect them. Greengo papers are completely natural, no added flavours or chemicals so all you can taste are the herbs you choose to smoke. So whether you're smoking for recreational, medicinal or spiritual reasons Greengo products are less harmful to you and the environment. We hope you enjoy them. For more information on Greengo products in multiple languages, you may visit http://www.greengo-products.com.
For Canadian retail or distribution opportunities please contact us.
Web Shop Customer Orders:
We only accept orders from and ship to customers in Canada. You must be of legal smoking age in your province to place an order. Customer orders must be a minimum of $50 to waive shipping fees. A $15 flat rate shipping fee will be applied to any order under $50. Orders will be processed and shipped via Canada Post the following business day and you will be contacted by e-mail with a tracking number.
http://www.greengo-products.ca/
---
Featured Home Decor – Umbra
Founded in 1979 in Toronto, Canada, Umbra is a design company recognized for bringing intelligent houseware products to customers around the world.
Originality is deeply rooted within the company's foundation. Umbra began when graphic designer and co-founder Paul Rowan needed a window shade in his apartment. Unable to find one that fit his taste and price point, he created his own. Paul then teamed up with childhood friend, Les Mandelbaum, and together they began to re-imagine everyday items into modern designs – Umbra was born.
Together with its international team of designers, the company values creating products that are original, modern, casual, functional and affordable. Today, Umbra is sold in over 120 countries.
Umbra Shift
Umbra Shift is an extension of Umbra that focuses on contemporary influences in the design community. For more than 30 years, Umbra has broken the mold by creating entirely new categories that apply thoughtful design to everyday items. Umbra Shift revisits these roots with a roster of established, emerging, and in–house designers who share Umbra's passion to re-think things, designing personal objects they themselves would want to give or use at home. The result is a collection that expresses diverse points of view, yet sits together with a shared belief in ideas that are functional, familiar and forward thinking.
The Umbra Store
Located in Toronto's creative Queen West District, the Umbra Store is a uniquely engaging space to view and shop the full Umbra and Umbra Shift collections. We welcome you to touch and feel our assortment of original products and engage with our store associates and product designers in the upstairs design studio
---
Featured Art Store – Lumas
In the hope of spreading our enthusiasm, we created LUMAS, where people can experience and acquire exceptional art photography. Over the years, the LUMAS Team has put together a diverse and exciting portfolio. While doing this, it has always been important to us to present a mixture of extremely promising newcomers as well as established artists. We believe we have succeeded in doing so.
LUMAS offers selected works by these artists as hand-signed original photographs. These limited editions usually range from 75 to 150 prints. This allows us to offer the artwork at more reasonable prices. Our goal is to make high-quality photo art affordable for everybody – even in large formats.
Not only does LUMAS offer an extensive collection of more than 3,000 pieces by about 250 established artists and promising newcomers, but also historical and contemporary pieces from selected archives.
Our Portfolio Management Experts keep informed on the latest trends in the international art market by regularly attending exhibitions, conventions, and festivals. In this way, LUMAS always stays current and exciting.
The exclusive, original photographs are available in hand-signed, limited editions with print runs usually between 75 and 150, or they are sold as Open Editions without the signature.
LUMAS Open Editions
Our Open Editions are not limited in number, meaning the amount in circulation can always be adjusted to meet the demand. Since these works aren't signed by the artists, it is possible for us to offer them at very competitive prices. Qualitatively speaking, LUMAS open editions are top-notch true photographic prints provided with an Edition Certificate.
To learn more about Lumas please see below
---
Featured Home Luxury Brand – Valency
Valency Design remains characterized by its dedication to quality and personalized service. It is renowned for having a full range of centerpieces, kitchen accessories, bed and bath fragrances, wall décor, as well as extraordinary accent pieces, giftware, and a bridal registry.
In-store interior design and decorating services are complimentary. The experienced staff will coordinate styles and colour schemes. With new items appearing regularly, homeowners, designers and decorators can benefit.
In addition to stock merchandise, custom orders are available.
Valency Design offers individualized service, concern for detail and, quite simply, the finest home decor available.
---
Featured AV Sponsor – EPIQ Vision
EPiQVision is a Toronto-based audio visual event services provider, creating luxurious and captivating experiences for over 15 years. With a head office and warehouse based in downtown Toronto, we offer special event and equipment rental services that seamlessly bring your vision to life quickly and efficiently. We are passionate about the success of your events. Whether we are producing HD Videos for an executive conference or using sound and lighting to create the romantic ambiance for a wedding and reception, we execute each detail with precision and provide service with discrete professionalism.
VIDEO PACKAGES
Our extensive inventory of video equipment allows us to produce a custom A/V solution that caters to your special event. We understand that a wedding reception requires a different technical production plan than a conference or corporate event. We select the appropriate technology for your event so your message is delivered effectively. We offer projectors, appropriately sized screens, and a projector remote to facilitate a smooth, effortless presentation. Our associates familiarize clients with all technologies prior to your event to ensure a comfortable and confident facilitation, and they will remain available throughout the function for transitions and additional support.
AUDIO PACKAGES
From a two-speaker sound package to a surround-sound theatre experience, our sound system package is flexible and easily customized to suit your needs. Our associates will design the best audio solution to fill your event space with evenly distributed sound. An audio mixer is included so sound can be quickly adjusted during the event.
LIGHTING PACKAGES
Our unique lighting packages create an extraordinary ambiance. Podium and table pinspots, colourful uplights, and intelligent club-style lighting are just a few of our lighting design options. Combining advanced A/V event technologies, rigging, and unique lighting design, our lighting associates create scenes that are visually stimulating and memorable.
BUSINESS PACKAGES
For corporate clients, we offer a variety of meeting and event services. This includes desktop computers, LCD monitors, webcams, and audiovisual systems integration to ensure clients can quickly attend to business demands.
Perfect to meet the audio-visual equipment requirements of an annual general meeting, or an executive meeting at a corporate conference. The EPiQVision Business Package offers all audio-visual components for an office suite, accessible for any professional.
---
Featured Premier Balloon Company – SugarGirlee & Co.
We're Sugargirlee & Co. Canada's Premier Luxury Balloonery, #makingballoonsfancy for party-lovers worldwide.
EVENT STYLING & CUSTOM BALLOONERY
Sugargirlee & CO. is available for signature event styling for any type of special occasion or corporate event. We offer complete packages, from onsite visit of your function area, through to design and installation/setup.
Our balloons have been favourited  for Private Events, Store Openings and Corporate Functions! We would be honoured to design and style a beautiful installation, completely unique to you.
FOR EVENT & MEDIA INQUIRIES: Please email or call: (289) 837.4994
FOR SALES: Email our Sales Team
FOR DESIGN & PROCUREMENT: Email our Design Team 
---
Featured Event Furniture Rental Company – Detailz Couture
ABOUT US
IT'S ALL IN THE DETAILZ
With Detailz, every seat is the best seat in the house
Welcome to a fresh new concept in Event Furniture rentals. Our style defines us, and our white-glove service sets us apart. We pride ourselves on going above and beyond to make sure every detail of your order is taken care of, from delivery to set-up to pick-up.Whether it's for a social or corporate event, our approach is to serve up our inventory in a personal, boutique-style experience for every occasion.
DETAILZ COUTURE
1 Arrow Rd
North York , ON , M9M 2L4
Tel: 647.928.7328
Fax: 866.863.6812
INQUIRIES
detailzcouture.com
---
Featured Venue – Yorkville Village
CENTRE INFO

Led by owner and developer First Capital Realty (FCR), Yorkville Village (formerly known as Hazelton Lanes) has recently undergone a complete redevelopment. FCR has created an entirely new shopping, dining and lifestyle experience by introducing a curated mix of both established local operators and first to market brands, retailers and services to the Bloor-Yorkville Community. One of the most significant aspects of the redevelopment was the acquisition of 136 and 138 Yorkville Avenue, which was transformed into a beautiful entrance, now known as "The Lane", which connects the shopping centre directly to Yorkville Ave.
We are an official tourist destination and are open on holidays from 10am-6pm, excluding Christmas Day*.
*Select stores
GETTING HERE
55 Avenue Road, Toronto, Ontario M5R 3L2
LOCATE US
We are located northeast on Avenue Road, just two blocks north of Bloor Street. In Summer 2016, we also launched the new pedestrian access via Yorkville at 136 Yorkville Avenue.
LOTS OF PARKING
We have a two level underground parking facility located off of Avenue Road.
Visitors to the Centre will receive 90 minutes of FREE parking with a $25 same-day purchase(s) Monday to Sunday. Sunday/Holiday Maximum $7. Parking validation is provided by individual retailers.
Yorkville Village Shopping Hours:
Monday – Wednesday: 10am – 6pm
Thursday: 10am – 7pm
Friday and Saturday: 10am – 6pm
Sunday: 12pm – 5pm
Yorkville Village Food Hall Hours:
Monday – Friday: 11am – 8pm
Saturday: 11am – 7pm
Sunday: 11am – 6pm
---
Featured Sponsor – CIBC
Experience The Difference Superior Wealth Management Can Make
The Yorkville Group is made up of a group of elite financial advisors who have come together to create one of the premier wealth management offerings in Toronto.
We are proud to offer affluent families and entrepreneurs a superior wealth management experience within a boutique-style location. Add to that the global resources of CIBC, and we can offer a strong track record of providing superior wealth management along with the planning strategies to help clients achieve their financial objectives.
What we believe …
In the Yorkville branch, we have assembled the most experienced team of wealth advisors in Toronto. We believe our team has the experience and expertise to provide you with innovative financial solutions that address every area of your financial situation. We have experts in financial and estate planning, business transition planning and wealth management. All delivered with the highest standards of service. Experience the difference we can make to your wealth.
Our promise …
Regardless of which Advisor you work with in The Yorkville Group, earning your trust and confidence is our number one priority.
Once we have listened to you carefully, and fully understand all the issues that impact your net worth and well being, including your objectives, goals and risk tolerances, we can prepare your customized plan.
We are committed to helping your reach your goals by providing the best, possible choice of solutions. Always. We take a long-term, pragmatic approach, establishing realistic goals and getting there with your risk tolerance in mind.
To learn more about how we can help you achieve your goals please contact a Senior Partner — Joao Rodrigues, Tomasz Krzyzanowski, James Williamson, Alan Friedman or Gary Pelow or Glen Daniel. We look forward to helping you navigate the complexities of accumulating and managing wealth.
https://www.cibcwg.com/web/the-yorkville-group/home
---
Featured Alochol Sponsor – Absolut Vodka

What does true taste of lime taste like?
Absolut Lime is made exclusively from natural ingredients, and unlike some other flavored vodkas, it doesn't contain any added sugar. To put it short and simple: Absolut Lime is smooth, rich and very fresh with a distinct note of freshly pressed lime and a slightly sweet and fruity finish.
The Absolut way of making vodka
In 1879, Lars Olsson Smith introduced the continuous distillation with which he made Absolut Rent Brännvin. Instead of the usual three or four times, the vodka was distilled an infinite number of times. Absolut Lime is made the same way, the only difference is the taste of lime. And, like the rest of the family, it's produced in Åhus, L.O. Smith's birth town. Since the process will never change, neither will the true taste of Absolut Lime.
Keeping natural ingredients natural
The main ingredients in Absolut Lime are Absolut Vodka and citrus flavour. Absolut Vodka is made from water and winter wheat. The water comes from a deep well in Åhus where it's protected from impurities. The winter wheat is also grown in Åhus and differs from other crops: it's sown one fall and harvested the next one. The days in between it grows under the Swedish snow, developing its hard grain. Also, the use of fertilizers is minimized. Of course, the limes are as natural as the rest of the ingredients.
https://www.absolut.com/us/products/absolut-lime/
---
Featured Swag Bag Sponsor – Enerjive
Our story began in a doctor's office.
Over two years ago, Natural Kitchen Wizard Korey Kealey was on a quest to seek optimal health and paid a visit to her local Naturopath to help her on her journey.
Surprise Surprise, Korey was intolerant to gluten and found that Quinoa the special seed with magical powers would be her friend along the way. Gluten-free, high in protein, promoting energy and a healthy metabolism, Quinoa was the secret ingredient in the prescribed chalky bread replacement but Korey didn't care if it was good for her…it tasted gross!
"So many people would benefit from this product, but it needs to taste good". Just then, a light went off in Korey's head and her eyes lit up with gluten-free glee.
Korey created an array of yummy quinoa SKINNY Cracker flavours to satisfy her every whim throughout the day. The enerjive™ Skinny cracker (snacker, dunker) was born!
Since then, enerjive has landed in retailers all over Canada. We are a company that believes food should taste good and be good for you!
Yummy health is what enerjive is all about. Creating food that is delicious and prepared using wholesome and clean ingredients is imperative to us. We take pride in providing healthy, gluten-free options to our consumers.
Enerjive is for everyone – yogis, athletes, foodies, people with gluten sensitivities and allergies, healthy eaters or those who just want a crunchy snack!
We are proud to fuel all of you QUINOA lovers and look forward to being a part of your YUMMY HEALTH journey!
http://www.enerjive.com/index.php
---
Swag Bag Sponsor – Sarafino
Sarafino is a small importing and distribution company that deals only in natural and uncompromised artisanal products which are true to their origins. A great deal of our time is spent meeting and educating our clients about where our products come from and how they are produced. Much of these labours are devoted to our internationally renowned Virgin and Extra Virgin Olive Oils and our new Organic Extra Virgin Olive Oil. These products are created on our own family's estate. They are our roots, as it was through this connection that Sarafino began.
Since then, our products have been received with enthusiasm and appreciation, leaving us with a tremendous sense of pride in our daily work. Through our importing and distributing experience, we have also encountered the harsh realities that exist within the food industry; namely, that imported goods (and even domestic goods) are far too often modified and manipulated for economic gain. We have come to value traditional farming operations that offer personal responsibility for what they create. Our goal is to defend and promote such artisanal practices, and it is exclusive with these types of operations that we do business. We plan to continue on this path and build our reputation as an honest, hard working, genuine food provider with nothing to hide.
---
Featured Sponsor – Premier Construction
At Premier we understand that not everyone wants a new home but we often find that our customers would rather renovate so they can still appreciate the neighbourhood and home that they live in.
Whether it is a bathroom, basement, adding some curb appeal or a major renovation we are here for you. Our experience in home construction and renovations will leave you worry free. If needed we can also assist with the planning stages, permit application and home decor.
We promise to deliver and back our work up with our warranty. It won't be long before you realize that you made the right decision choosing Premier Construction for your project.
http://www.premierconstruction.ca/
---
Featured Event Sponsor – Scarpino Group
Gianni and Marisa are a brother and sister Real Estate team that have been "working together" for over 35 years!

Whether you are looking to buy or sell your family home, or make an investment in the ever growing real estate market, they are the perfect team to assist you.
With over two decades of combined experience in both residential Real Estate and the construction industry, they form a dynamic duo when it comes to negotiating, marketing, and pointing out the key features of your home.
Most who know them have trouble believing they are brother and sister; being almost complete opposites. But it is their different skills and personality traits that has become their biggest asset. As a team they compliment each other, and they have learned to use each other's strengths as the situation dictates.
As the old saying goes, two heads are better than one. And two Scarpino's are better than none! If you want the highest level of service and skill for the most important financial transaction of your life, think The Scarpino Group for all of your real estate needs.
---
Featured Entertainment – Barista Brian
Brian Leonard is an artist based in Toronto, who has garnered international media attention for his "Barista Brian" Latte Art creations. He grew up in New Brunswick Canada, the middle of five children in a musical family. Brian studied Opera Performance and Health Science in University, before completing a year in the Audio Engineering Program at The Banff Centre.

Following a terrible accident, Brian spent a year in Fredericton recovering from his injuries. It was during this time he began his journey with coffee. Spending hours a day at local cafes, drinking coffee and writing or sketching, this was where he found himself again.

Moving to Toronto, he found himself in front of an espresso machine and
began creating latte art. It was not long before his latte art started being noticed by local media, who named him Toronto's Best Latte Artist in 2015.
Following a series of television and media appearances, Brian's opportunities continued to grow. Collaborating with international brands, clothing companies, and many major media outlets, he continued to push boundaries as a barista and artist in his newfound medium. His latte art has been featured at music festivals, international film festivals, celebrity galas and major awards shows. He currently lives downtown Toronto and explores and expand his artistic talent and opportunities.
Press
Featured, TMZ, 2017
Featured, Toronto Star, 2016
Featured, CBC News, 2015
Representation
---
Featured Alcohol Sponsor – Sylk Vodka
Sylk Vodka started as a dream. The dream piece by piece became a vision that was put into action and became a reality using precise ingredients, methods and craftsmanship. Those who are precise  about the details they choose, from their clothes and venues to their cocktails and company, choose a vodka with a similar priority. Sylk Vodka wasn't just blended for them it was specifically designed for them. Everything about Sylk Vodka was diligently designed.
The continuous distillation and multi-filtering process ensures an extraordinarily smooth taste. Along with the elongated bottle which displays the smoothness of the spirit it contains. It is definitely the bartenders dream. Designed for precise, accurate and seamless pours. That's what makes Sylk Vodka perfect for those who adore quality.
---
Featured Event Sponsor – Dynamic Hospitality
Since 1986 Dynamic has developed, managed and operated some of the top event venues in Toronto; Atlantis Pavilions, The Eglinton Grand, Seven Lounge, Yuk Yuk's- downtown Toronto, Vaughan and Mississauga, Wendel Clark's Classic Grill and Sports Lounge, as well as the infamous Berlin Nightclub.
Dynamic has hosted thousands of events for some of the world's most recognized individuals and corporations which include but are not limited to: McDonald's, Disney, Sony Music, The Juno Awards, Ikea, Holt Renfrew, Christian Dior and other individuals such as; Tom Cruise, Will Smith, Vince Carter, The Toronto Raptors and more.
In addition to the numerous corporate events and the star studded roster that have been held at Dynamic's venues, the company has also held thousands of private social events such as weddings, bar and bat mitzvahs, graduations, proms, anniversaries and birthdays in their upscale venues.
As a leader in the hospitality and event industry, Dynamic's capabilities are extensive. From catering to event management, planning and execution, Dynamic has consistently proven that it is capable of delivering top notch events at top notch venues.
---
Featured Vendor – Phillips Financial Group
Gerry Phillips has been in the investment industry for over 30 years. His career started in the mid 80s at the Vancouver Stock Exchange. He became the Head Trader for Walwyn Stodgell after just 3 years on the floor. He then moved to Toronto to work at the TSX. He spent almost 20 years working for RBC Capital Markets and achieved Vice-President status.
After leaving RBC, and with the encouragement of friends and colleagues, he became a successful advisor. After a few years of mentorship from top advisors, as well as fully developing his own skills, he has decided to launch his own firm, Phillips Financial Group.
http://www.phillipsfinancialgroup.ca
---
Featured Cater – Multi Pasta
In Italy, making pasta is more than just an art form… At Multipasta, we take pride in using that same passion to create one of the best tasting pastas ever made….right here, in Canada.
The best in premium quality, Italian-style fresh pasta & prepared foods. Call us for your catering needs. Your order will be made fresh for you!
---
Featured Sponsor – Advantage Pest Control
Advantage Pest Control is a privately owned and operated business serving residential and commercial clients in the GTA region. Our mission can be defined simply as; quality 24-hour confidential and discreet service, results with guarantees, a proven unblemished track record and absolute satisfaction with no repercussions on our clients.
We are proud members of the National Pest Management Association (NPMA) as well as the Canadian Pest Management Association (CPMA). Advantage Pest Control is fully licensed by the Ministry of Environment, Ontario. We are fully insured. All our exterminators are accredited and certified professionals in this industry in Ontario. At Advantage Pest Control, our primary goal is total client satisfaction with all our customers.
Advantage Pest Control is dedicated to serving the homes and businesses of Peel, York, Durham and Toronto Regions by providing pest control services and products at competitive costs and impeccable service quality.
Family owned and operated since inception in 1974, Advantage Pest Control has performed some 400,000 pest extermination services across the Greater Toronto Area. The company along with its team of highly trained technicians, prides itself on staying ahead of the curve and on top of the latest technologies and pest control products. Our staff has extensive experiences servicing all types of residential and commercial structures – including Fully Detached, Semi-Detached, Town Homes, High Rise Building Apartments, etc, as well as Churches, Warehouses, Laboratories, Office Spaces, Restaurants and Grocery Stores for non-residential structures that we typically service.
We help you by reducing and eliminating the aesthetic, economic and health concerns created by the pest infestations. Contact us today to receive a free estimate.
Advantage Pest Control is one of the leading carpenter ant, bedbugs, and mice specialists serving Toronto, Mississauga, Peel and Durham; including the surrounding areas of Scarborough, Richmond Hill, Markham, Pickering, Ajax, Whitby and Rexdale. We also offer a full range of pest control products including aerosols, baits, sprays and dusts for treatment of your pest problem. Additionally we carry non-insecticidal products such as bedbug proof mattress encasements and mechanical and pheromone traps.
http://advantagepestcontrol.co/
---
Featured Vendor – The Diva Planner Collection
Staying on top of the perpetual pile of things to do and look good doing it, is everyone woman's goal. Stuff has to get done, so why not do it in style? Check out our unique products and see what catches your eye.
You will notice we have a colour scheme going on. Try something new instead of the old boardroom black, brown and blue. Our products are also vegan!
This ain't your momma's closet!
Hope you like our products as much as we like show casing them to you. Drop us a line if you have the time.
Have a fabulous day darlings……and remember STAY ORGANIZED!!
Important: The DP Collection will advise on the shipping costs with you via email.
https://www.thedpcollection.ca/
---
Featured Entertainment Sponsor – Bong and B
Bongo & B Entertainment
Bongo & B is a company that provides a full range of high quality entertainment solutions for Live Performances, Bands, Showcases, Impersonators and more! We can cater to Corporate, Private, Nightlife and Wedding functions.

Our specialty is delivering incredible Live Entertainment in collaboration with our lighting/sound professional partners.
Your event is our top priority and we take great pride in consulting with our clients from beginning to end. Ask us first about top venues, partner relationships and all services related to your event. Our policy is to be open and honest educating our clients on all services provided by Bongo & B Entertainment and our strategic partners in the industry.

We look forward to delivering memorable performances and helping you achieve your vision of a perfect event; This is the Bongo & B experience
---
Featured Swag Bag Sponsor – S Style Magazine
The lifestyle magazine for sophisticated women. We cover the latest in design, fashion, beauty, and culture.
S/ magazine, SStyleMagazine.com and our various social and online platforms offer polished and sophisticated lifestyle content for the discerning Canadian woman who appreciates the latest in fashion, beauty, arts, culture, travel, décor and wellness. Our contributors are leading Canadian and international writers and photographers who bring a refined sensibility to global trends and attract the attention from the aspirational to the affluent.
---
Featured Sponsor– DelVinyl Entertainment
You recognize that the Dj can make or break your event and you want tried,tested, & true quality.  You get peace of mind knowing that you're booking with a dedicated and experienced Dj that knows how, what, & when to play (intuitively).  Playing two songs at once and making it sound good takes years of experience.  In a party setting people nowadays get bored quickly with a person who just plays songs (it's easy anybody can do it) or is not experienced enough to know how to rock it.  Our music library selection is 20 years deep.  We take pride in the fact that we are one of the few companies out there, that stays true to the art & culture of real Deejaying.
Our passion is to provide fun, original, & tasteful Dj entertainment for music lovers of all ages by performing the authentic art of Deejaying. Turntablism, vinyl, analog, digital, audio, video, MC, & Lighting are the performance services we offer. Our goal is to help people have the time of their life & make connections to people that may never have happened!
---
Featured sponsor – Pruvit 

We set out to help people discover how to upgrade your body and mind using the proven science of bio hacking & ketones. To help people enter a state of high performance every single day. It's easier than it sounds. we can Prüvit. Our groundbreaking technology will allow someone to think faster, have better focus and energy, laugh at food cravings, shed fat & look good doing it.


We are creating a community of people who care as much about personal performance as you do. By giving expert guidance so that people can walk the path of peak performance and innovation through mind, body & spirit, we can help one become nearly superhuman as they begin to perform at their own optimum
level.
Prüvit Ventures, Inc. (Prüvit) was founded with a very simple philosophy. Make. People. Better. Based on this core  belief, the company set out to tackle the supplement world by creating the world's first consumer based ketone supplement drink. We are primarily focused on evidence based products that help optimize your human potential.

Prüvit is proud to be the worldwide leader in ketone technology. Prüvit is pioneering this new marketplace.  With community as its focus and the power of social commerce, our philosophy is simple.
---
Featured Tulip Sponsor – Andrew Pateras
Andrew has lived in the GTA all his life and a good portion of his adult life has been devoted to sales. He studied Business Information Systems Management at Ryerson University. From there, he worked in sales for tier one organizations such as Hewlett Packard, Epson and Intel. Then as North American Sales Manager for GAP Adventures, he gained even more experience in negotiation and client service. Andrew has been a licensed real estate sales person since 2006.  In 2007, Andrew also began a new venture in professional photography. Over the next number of years, he travelled on assignment all over the world. This is why he is meticulous when it comes to     your marketing images!
To say Andrew's travel and photography experience is extensive would definitely be an understatement. He has journeyed to remote and exotic locations in 49 countries on all six continents in search of adventure and authentic cultural experiences. Whether it is diving with great white sharks in South Africa, in a cage with Bengal tigers in northern Thailand or perched atop a land cruiser, photographing rhinos and lions in the Serengeti, he has likely photographed any experience you can imagine.
Andrew gets involved in his community. A portion of all of his commissions goes to the Children's Miracle Network and Sick Kids Hospital. He is President on the Board of Directors of Metro Toronto Condominium Corporation 1213. Also, as a member of the RE/MAX Young Professionals, he and the other members dedicate their time to increasing client service techniques and implementing new technology in the Toronto real estate market. Andrew also instructs other real estate professionals on how to move to a paperless system using the Apple workflow he has developed.
Andrew basically lives and breathes real estate! In addition to residential sales, he also has extensive experience in commercial real estate leasing, purchasing and property management. His commitment as your real estate professional is to provide you with the specialized real estate service you deserve. Whether you're buying or selling, contact him with any questions that you may have. His promise to you is that your experience will be both stress-free and enjoyable. The focus is always YOU and the results you can expect from him.
---
Featured Tulip Sponsor – Nvision
nvision Solutions is based out of the Greater Toronto Area
Part of nvision's secret sauce is that we're comprised of award winning creative designers, developers and search marketing wizards with an uncanny passion for digital excellence. We also think like the big agencies, but we're agile like ninjas in the night!
Over the last 15+ years, nvision has had the pleasure of working with international brands, startups and all the fun companies in between. When we first started, our goal was simple; illustrate that there could be a marriage between amazing design and sound technology.
It was not uncommon to see a beautiful website that seemed to have been coded by a chimpanzee. On the flip side, having a paper bag ready was mandatory when checking out most backend solutions. We setup to change all of that, and we did! No more form without function, and function without form!
---
Featured Iceberg Sponsor – Cycle Bar
IT'S TIME TO RAISE THE BAR
The much anticipated CycleBar Leaside, a new concept in premium indoor cycling, has officially come to Canada. As the cycling trend continues to grow in Toronto, it only seemed right to have the new studio as one of our Iceberg sponsors for the Grand Winter Ball! The studio will be offering guests an in depth look into the latest fitness craze to hit our city streets.
CycleBar Leaside is an intoxicating cycling experience that offers a pay-per-class model, with no membership necessary. Concierge service and amenities include free towels, showers, lockers and shoes. Workouts at CycleBar Leaside are a thrilling journey.
The CycleBar Leaside workout experience includes professionally engineered light and sound systems, energy-enhancing video graphics and even a DJ booth!
Led by high-energy CycleStar instructors and fueled by incredible music playlists,
you're sure to have the workout you've been longing for. Classes are 50 minutes in length and are led by CycleStar instructors from the Leaside and surrounding community.

As an active community member, CycleBar Leaside does more than just help people stay in shape, it also offers individuals and groups the opportunity to fundraise for local charities through regular CycleGiving events. To find out how you can get involved and test out this new studio, visit leaside.cyclebar.com. You can also follow along the journey on social media. Visit the CycleBar Leaside Facebook page and Twitter page.
---
Featured Catering Sponsor – LaCantina Catering
MEET THE CHEF
Anthony Ramundi was born to a rather large Italian family with a business in catering and banquet service called Tony's Ballroom established by Antonio Ramundi, Anthony's Grandfather in 1965.
The family business grew and Anthony grew with it, early memories of weddings, parties and events, plenty of food and all the service that goes with it. As early as 3 years old the exposure to this industry has formed his opinions and passion for food and hospitality. Since the age of 12 Anthony spent his time working summers and weekends in the family banquet business, before choosing to work as a busboy in the restaurant industry for the first time at 16 years of age. Since then Anthony has developed the skills as a front of the house expert.
Having learnt every position in the restaurant business including the prized position of executive chef, Anthony eventually went on to help managing and consult for over a half dozen restaurants. Anthony furthered his education by graduating from culinary school and obtained a red seal equivalence before the age of 25. Having owned his first restaurant at 21 years old Anthony is no stranger to hard work and the effort it takes to make a success. At 28 years of age he operates La Cantina Catering daily with a passion for learning and the motivation to expand is the next chapter.
http://www.lacantinacatering.com/
---
Featured Swag Bag Sponsor – The Saucy Fish Co
We are The Saucy Fish Co. and we're here to unite the world behind a love of fish. We started in early 2010 by telling the UK about our fish minus the fuss promise and we've since recruited 5 million fish fanatics into our happy shoal. We now want to combine and conquer Canada! Combine our moreish fish and sauce pairings to conquer yet more tea-time plates and rescue you, our new fish fan, from a sea of blandness. Hungry for more?
Because the fish comes first! We care about our craft. We're passionate about our product and all of the things that go into it.
We LOVE fish and want everyone to have the chance to enjoy it. Not just you, but the next generation of fish fans too. There may be plenty more fish in the sea, but if we want to keep eating the tasty ones, we have to get serious.
Ensuring that there are enough of our fish friends in the sea for future generations is in everyone's interest and aside from ensuring that our products are of top notch quality, sustainability is top of our agenda. That's why we're a founding member of the Sustainable Seafood Coalition – a progressive partnership of seafood businesses like us who aim to address important issues in fish & sustainability.
http://www.thesaucyfishco.com/
---
Featured Swag Bag Sponsor – Pur Gum
MADE FOR EVERYONE
With a growing number of health-conscious consumers and dietary restrictions, we ensure anything PUR is made just for you. No one should feel left out!
SIMPLE SUBSTITUTIONS
A healthy lifestyle begins with making healthier choices, even if it's something as simple as removing artificial sweeteners and flavours from your everyday products!
We will continue to innovate and create products that follow our mission to make simple substitutions so that your everyday decisions to live a healthier lifestyle are effortless.
---
Swag Bag Supporter – Long Live Our Pets
IS YOUR PET FULLY PROTECTED FROM
FLEAS AND TICKS?
WITH THE HELP OF A NEW SCIENTIFIC INNOVATION, YOU'LL BE ABLE TO FORGET ABOUT FLEAS AND TICKS FOREVER
Repels fleas, ticks, mosquitoes and all other external parasites including Australian paralysis tick
Chemical-free, 100% safe for animals and humans
Lasts up to 4 years
Costs 20 times less than other anti-parasite products
Water resistant
Effective on dogs and cats of any age (even newborns), any weight, including ill, convalescent and pregnant pets
100% odorless
Produces Scalar waves and creates an impenetrable, protective shield around the animal's body
Officially tested and proven with 96.67% efficiency rate
Successfully protecting over 36 million pets in 197 countries worldwide
---
Featured Sponsor – Wedding Opera 
We know your time is precious; that's why we here at The Wedding Opera will not waste any of it!
As Ontario's most celebrated online wedding publication, we are dedicated to creating a beautiful, modern and valuable space connecting local Ontario Wedding Vendors with devoted brides and grooms.
We carefully curate our content and source all our inspirations to help make your wedding planning fun and easy!We spend countless hours bringing great ideas together so you can save time and learn how to create a wedding with personality, elegance and one that is truly unique to you!
We will introduce you to up-and-coming wedding vendors as well as seasoned professionals – all who have awe-inspiring creativity and massive integrity.
Creating something meaningful and sustainable takes time and collaboration.
http://www.theweddingopera.com/
---
Featured Sponsor  – DJ & Co.
It is our experience and countless satisfied clients that makes us who we are as an entertainment company in the wedding, private and corporate industry. Our mission is simple: "Play what the client wants".
We have been in this industry long enough to know what is needed to make a successful event. We don't do online quotes or generate your itinerary here. WE want to meet you. WE want to get to know you and make you feel confident that we are your number one DJ choice for your event! Great music and no cheeze, just a great event! Our Passion is entertaining!
BIO:
Ian has been a DJ for over 30 years. In 1985 was when he discovered how
music can control a crowd. Years later and with the help of DJ Anthony
Pelimiano, Ron Domingo, Randy Ibay and Paul Biaoco, his boutique
company, The DJ and Company continues to be part of many wonderful
people in the wedding and entertainment industry
His experience has positioned him as a preferred vendor with Berkeley Church/Berkeley Events and the historic Old Mill Toronto.
2016 Wedding Wire's Couples Choice award recipient.
http://www.ianliwanag.com/the-dj-co/
---
Featured Sponsor  – Wonder Chic Events 
Wonder Chic Events is a boutique event planning company that focuses on tailoring your event to your unique tastes, style and flair. From intimate weddings to lavish events, and birthday celebrations to unforgettable wedding proposals, we add a fun, whimsy-chic touch to your special day.
Our commitment is that the planning process with Wonder Chic Events is as FUN, stress-free, and enjoyable, as the BIG DAY itself!
http://www.wonderchicevents.com/
---
Featured Sponsor – The Ice Man
The Iceman started out as a packaged ice supplier in the heart of downtown Toronto back in the spring 1987. Since then we've extended our products and service offerings into what we do today:
Packaged ice sales
Dry ice sales and shipping services
Ice machine sales and service
And custom ice sculptures
Our downtown Toronto location is ideally located to supply and serve your restaurant, bar, night club, hotel, hospital, clinic, or event venue. You can visit our location for on-site ice pick up, or you can choose to have your order delivered.
We've been proudly servicing the Greater Toronto Area for over 25 years and we continue to strive to offer premium packaged ice products and outstanding ice machine customer service and support. We also pride ourselves as your complete, go-to solution when you need to ship temperature sensitive products in dry ice.
---
Featured Media Sponsor – SHE Canada
SHE Canada is a bi-monthly Fashion, Lifestyle & Entertainment publication. It is affiliated with SHE Magazine from South Asia that has been in publication for 50 years and is one of the most widely read English language publications on the sub-continent. The Canadian edition was launched in September 2012. It appeals to the fastest growing segments in Canada: affluent, dynamic, and influential South Asian women between the ages 20 and 40.
Part high-fashion, part politically driven, SHE Canada's original, sophisticated, timely articles and comprehensive editorial content cross over all cultural boundaries, creating an effective, cost efficient and innovative vehicle for your advertising message. It's the perfect way to reach an expanding and diverse market – a market that increasingly displays interest in this fashionable, vibrant, lucrative and rich culture.
---
Featured Decor Sponsor – Spirale 
Spirale is a boutique offering uniquely tailored floral designs and event décor with a French-inspired twist.
We are a team of passionate individuals that works closely with our couples to deliver a stylish celebration with our creative expertise.
We do not see flowers as just a bouquet nor just centre pieces on tables but rather one of the important elements in a wedding, a fashionable piece of art complimenting the beautiful bride, and the representation of the couple's personalities.
We are constantly being inspired by our couples and their desires and we believe that each wedding deserves its own personal touches. Our goal is to create a stunning piece of Art for our bride throughout her most important day, walking her down the aisle and taking everyone's breath away.
http://www.boutique-spirale.com/
---
Featured Vendor – Easy Tax File
AZ Accounting is a full service boutique accounting firm driven by Andrew Zakharia who possesses over ten years of industry experience and has worked with clients across a variety of industries. He has practiced accounting in both Canada and London UK.Andrew completed his articling with PricewaterhouseCoopers LLP. He is a Chartered Professional Accountant (2009) and has completed the Chartered Professional Accountants Income Tax Practice Course (2015).
The firm  is the choice for local businesses and organizations. To achieve our vision, we must develop a reputation of service quality and excellence. To that end, we strive to exceed expectations in every interaction and work meticulously to create tailored, practical and organic solutions for our clients.
HOW DID YOU GET STARTED?
The founder, a Canadian Chartered Professional Accountant, observed that people found tax time stressful and inconvenient. Digging deeper, he found that the cause for this stress stemmed from the inconvenience of finding and corresponding with an accountant.
The Easy Tax File platform solves this problem by using modern technology. You and your accountant can work through your tax filings remotely and at your convenience.
---
Featured  Swag Bag Sponsor – M.Pire Designs
M.PIRE Designs specializes in elegant and unique custom designs suitable for any occasion. We provide consultation sessions to help plan, organize and decorate your wedding, corporate events or any other functions.
---
Featured Vendor – Destination Romance
Sandi Laing has been in the travel industry for almost 20 years now and have loved every minute of it.  After an unsuccessful visit to a travel agency to plan my own honeymoon, I thought I could do a better job at helping clients fulfill their romance travel dreams.
I graduated with a Travel & Tourism certificate and worked for Thomas Cook in a wholesale division for years.   One of my true passions is travelling and I still get excited every time I get on a plane! I grew up in Ottawa, lived for a time in Calgary and settled in Mississauga.
I love to read, especially autobiographies and true stories and am an avid curler, golfer and camper.  I have a wonderfully supportive husband, creative stepdaughter and am the mother to a talented and awesome teenager and dwarf bunny, Allie.
My parent company is TravelOnly ~ a family owned Canadian company that has grown to over 500 independent associates nationwide.  We are fully licensed and insured.  As members of TICO, IATA, ACTA, CLIA and Ensemble,  we can provide you the security of dealing with a reputable company that has been around for over 40 years.
I am a Certified Sandals Specialist, NCL certified and a full service travel agent specializing in romance travel.  Also a proud member of Destination Vows and DWHSA – Destination Wedding Honeymoon Specialist Association.
---
Featured Vendor – Zay Zay
Sharon Lockwood, Founder & CEO
ZayZay evolved from a vision I conceived three years ago. After running my own successful design practice in Toronto for many years, I felt a deep desire to expand my creative license, to push the limits, to produce works that exploded with colour and energy. I wanted to steer a new course, combining my graphic skills with my paintings, and applying these original compositions to textiles.
Ironically, this is a return to my original foundations in textile design: I was raised in London, England, and it was there that I attended art school to specialize in textiles. I later attended OCAD University in Toronto to study visual communications. And now, these two disciplines have merged into one.
Using the latest digital technology, we have been able to achieve the most remarkable blends of colour, from the most subtle to the most intense and saturated hues; something not attainable with conventional rotary printing.
Much research has gone into the making of these premium ZayZay confections. We travelled the world to inspect factories and manufacturers capable of producing extra-wide format textiles, finally settling on a company in Portugal with the right combination of quality, ethical labour conditions and environmental integrity.
We then set out to transform the often neutral comfort zones – including the bed surface – into a vibrant statement, a refreshing alternative to beige and gray palettes. We wanted to shift the energy in the bedroom through bold artistic expression, to transform the duvet cover into a conduit to conversation. The results have been extraordinary, allowing you to turn your bedroom into a work of art and elevate the romance factor at the same time.
Your bed will not only look gorgeous, it will also feel absolutely wonderful once you're tucked in.
I am beyond excited by what lies ahead for ZayZay. New worlds are unfolding! I invite you to wander through our collection and experience the exuberance of this new line of linens, the perfect gift for you or your friends.
---
Featured Vendor – Moira Bush – The Colour Entrepreneur
Author of the Colour Mirrors Oracle Cards
Author of the upcoming book "Love & Money: The 7-Colour Process"
Born in South Africa my studies were in business, marketing and facilitation; specializing in developing training programs for entrepreneurs and community projects with a 98% success rate. I also studied drama; acting, directing and writing.
In 2002 I moved to England where I worked for the Women's Business Development Agency helping women off the welfare system into self-employment. Here I only achieved a 49% success rate and discovered that personal empowerment had to be taught alongside business development. However, I did not know how to do this effectively until on a course in England I met a fellow South African, Melissie Jolly the founder of Colour Mirrors.
Colour Mirrors is a system of colour psychology that transformed the way I worked with women entrepreneurs and at the same time revolutionized my personal relationships.  I started working with Melissie in business and we set up international centres of training and distribution.
It is my passion to help men and women who feel a calling to make a difference on the planet doing what they love. If you are a Thought Leader, a Change Maker or someone that wants to serve authentically and live an abundant life, allow colour to amplify and enhance your business and become a colourful entrepreneur!
Moira Bush teaches Colour Mirrors Courses internationally, training Colour Practitioners and Teachers to specialise in Colour Therapy.
Her client base includes Complementary & Alternative Therapists, Scientists, Doctors and Counselors.
---
Featured Event Supporter – The Closet Maven
The Closet Maven will enhance your life and create a closet space for you that fuses fashion with function.

Whether you rent or own, have a small or large space, a reach-in closet with a rod and shelf or walk-in closet, whether you want to simply re-organize the space you have or create one anew, The Closet Maven has you covered.
Your wardrobe will be organized for function and accessibility. Items will be stored properly to achieve ROI and longevity. You'll be able to shop your closet every day, and getting dressed will be a fun, enjoyable experience…. the way it should be.
For more info on the Closet Maven and their services please go to
---
Featured Swag Bag Magazine – Elegant Wedding Magazine
Elegant Wedding Magazine is about unparalleled elegance, true style and sophistication inspiring the creativity in every reader and leaving the beholder awestruck.
Something new is discovered each time one leafs through it, rendering it fresh with an abundant source of ideas on countless occasions.
Elegant Wedding Magazine has quickly received unprecedented attention within the wedding planning industry while catering to luxury wedding
consumers.
With this opportunity we invite you to review Elegant Wedding Magazine – the most exclusive bridal publication.
We believe that our magazine is the most effective vehicle in communicating your avant-garde product or service to your potential clients that demand the utmost in style, resources and quality.
---
Featured Event Florist – Delta Dawn Floral
Delta Dawn Floral is a full service luxury florist located in mid-town Toronto committed to excellence in service, quality and value.  We listen to our clients, support local agriculture and love what we do.  Consultations are free and questions are always welcome.
---
Featured Spa – Elmwood Spa
Elmwood Spa is the urban spa destination in Toronto for women and men who seek stress relief and relaxation in a serene atmosphere. With more space than any other day spa in the region, Elmwood Spa is an ideal place to gather with friends, to celebrate milestones, to reconnect with a loved one or to use as one's own destination for stress relief and self-renewal.
The magic begins in the contrast between our historic building and its elegant, recently renewed interior. It continues with a warm welcome and attentive service that makes you feel special from the moment you arrive. It culminates with our Signature Services, LI'TYA Healing Rituals exclusive to Elmwood Spa in Canada, and our Siam and Sea Flora treatments designed by our Spa Care Experts™ to bring our guests the best of traditional treatments reinterpreted for modern urban life.
---
---
Featured Beverage Sponsor – Bec Cola
Bec Cola is a refreshment that celebrates the flavours of our land. It's a soda sweetened with maple syrup and prepared with organic ingredients. An authentic taste of Quebec. What better way to get back on your feet?
In the bottle
– Filtered carbonated water
– Organic maple syrup
– Organic sugar
– Citric acid
– Organic caramel colour
– Organic cola flavour
AN ORGANIC BEC
While we were imagining Bec Cola, we decided to encourage organic growth: we believe in the development of ingredients that are viable and in sync with our environment. Bec is certified Ecocert.
A QUEBEC BEC
Every day, we collaborate with maple syrup producers, grocers and restaurateurs. We support the local economy with cases of Bec Cola. Bec is certified Aliments du Québec. Aliment du Québec.
---
Featured  Floral Sponsor – Kaas Floral Design
Combining two decades of interior and architectural design with my passion for nature's bounty,  Beata Kaas strive to create truly unique floral designs that reflect the heart and soul of each client.
Her journey began in Poland, a country obsessed with the beauty of flowers, and has continued with my travels abroad. After graduating with Honors in Floral Design from Humber College Institute of Technology and Advanced Learning, she continued her studies by earning a European Master Certification. Mentorship with world renowned Belgium Master florist Tomas De Bruyne and Canadian Master florist Hitomi Gilliam AIFD has brought a new dimension of texture and attention to detail to my designs.
Within any budget, Beata Kaas commitment is to create designs that reflect your style and speak with your voice.
http://www.kaasfloraldesign.com/
---
Featured  Floral Sponsor – Melrose Flower Studio
19 Melrose Flower Studio is known for our unique designs and attention to detail. We can create and deliver for you, life event flowers for birthdays, anniversary, corporate, party, wedding and sympathy arrangements. Here you will experience an abundance of flowers, innovative floral designs, unique accessories, and pure inspiration. Marilyn will work with you to design the perfect floral décor for your event or special occasion. We can custom order flowers and accessories for all your needs. Private consultation appointments are available from Monday to Saturday and include early evening's times. 19 Melrose Flower Studio will work with you and design an exclusive concept that reflects your personal style for your event or gift.
Our aim is to always achieve your vision with our custom designed arrangements and then add that extra touch. Every wedding or event is unique, but our goal is always the same: to leave your guests raving about the look and you delighted by our service.
19 Melrose Flower Studio is located in Barrie, Ontario and delivers flowers in Barrie and surrounding areas.
---
Featured Transportation Sponsor – Bennington Chauffer


Serving Greater Toronto and surrounding areas since 1993, Bennington has become the premier service in the ground transportation industry. With a complete range of vehicles to accommodate everything from airport transfers to multi-city meeting schedules, our fleet of vehicles will get you to and from your destination on time and safely.
Bennington specializes in making your trips seamless. With our 24 hour in-house reservations and dispatch team, you can rest easy knowing that all your trip details are being handled by our team of dedicated professionals.
---
Featured Wine Sponsor – Euro Vintage
Proudly operating since 1993, Eurovintage is a premier wine and spirits importer headquartered in Toronto, Ontario. Importing the finest wines and spirits from all over the world, Eurovintage has cultivated a truly global network of suppliers in order to share the finest wines and spirits with the Ontario market. Involved in all aspects of brand positioning, sales and marketing, Eurovintage is an acknowledged leader in the development and growth of wines and spirits.


Founded in 1885 by François Rémy, Rémy Pannier is the Loire Valley's single largest wine producer, accounting for about 15% of all Loire Valley wine production, and with markets in over 40 countries worldwide. This progressive winery offers three AOC wines including the best selling Rosé in Ontario – Rosé D'Anjou, Muscadet and more recently, Sauvignon Blanc.

Galevan Paroles De Femme Cotes Du Rhone AOC was made in Rhône, France by Coralie Goumarre Mas Des Lysses. This beautiful ruby red wine has exceptional berry flavours, and desirable aromas such as cherry, licorice, earth and herbs. With it's medium bodied, medium acidity and gentle tannins, this dry wine will leave your taste buds wanting more.
---
Featured Whisky Sponsor – J.P Wiser's
In the late-1800s, John Philip Wiser, or J.P. as he was fondly known, set out in Canada at a deliberate and steady pace to build a company that was known for its quality, craftsmanship, and premium products. So began a long tradition of Canadian whisky making. J.P. Wiser's ambition was simple – to produce the highest quality whisky that pleased the eye, nose, and tongue. Using only superior ingredients, he aged his whisky to distinction in premium white oak barrels – and over 150 years later, J.P. Wiser's whisky is still made using traditional recipes to ensure that the final product lives up to the standards set out by J.P. Wiser many generations ago.
A perfectionist in all his undertaking, J.P. Wiser used only the finest ingredients and demanded the hightest standards for his signature Canadian whisky. Continually improving and advancing the whisky-making method, he aimed to refine the process and set new standards. Many products of that day were glaringly impure and under-aged, but J.P. Wiser's whiskies soon became known for being blended with exacting care and aged to perfection in white oak barrels.
---
Featured Visual Display Sponsor – M.V.I Multi Vision Inc
MVI – MultiVision Inc. is dedicated to the service of our customers. With over 40 years of event experience, MVI has the knowledge and experience necessary to overcome unique challenges and deliver the positive results that our customers expect and deserve.
Offering full service audio-visual support and specializing in LED video displays, MVI is your resource; providing technical expertise and creative service solutions. Embracing an ever changing marketplace and evolving technologies allows MVI to offer our customers distinctive products and exclusive services.
Supporting television productions, music festivals, corporate presentations, tradeshows and events in general, MVI offerings are industry leading, characteristically reliable and refreshingly personal.
Founded as "MultiVision" in 1974 the company originally provided specialized audio visual solutions for corporate boardrooms, museums, planetariums, expo's, and temporary event installations.
Growing steadily over the first 15 years, MultiVision gained the reputation of providing reliable equipment and stellar service for projects world wide. After securing a multi-million dollar museum installation in Ottawa in 1989, MultiVision was purchased by their long time supplier of audio/video control systems; namely UK based Electrosonic Systems. Mainly due to the inflow of new technology and long standing global relationships, now "MultiVision Electrosonic" had 10 solid years of growth and success.
Ultimately, due to the rate of technological change and unique demands from the customers and dealers in the North American marketplace, it became evident that MultiVision Electrosonic's Rental Division would benefit by restructuring into a more mobile and flexible firm. In order to best support the growing service oriented customer base the Rental/Staging Show Division underwent a Management Buyout in 1999 by existing staff to become today's MVI – MultiVision Inc. and promptly invested in emerging LED video display technology.
---
Featured A.V. and Lighting Sponsor – William F Whites
William F. White International Inc. (Whites) is a Comweb Group member company. Founded in 1963, Whites is Canada's oldest and largest provider of professional motion picture, television, digital media and theatrical production equipment. The company services productions of all sizes from coast to coast and has the most extensive inventory of equipment in the industry, including the very latest in technological advances.
Whites' inventory includes a complete array of film and television lighting (including HMI & Tungsten, SourceMaker Balloon Lighting), grip equipment and an extensive fleet of crystal sync generators (from 3kW to Twin Pack 200kW tractor mounted units). Whites also carries a wide range of remote heads and cranes, camera cars and related specialty, state-of-the-art production equipment.
Whites has established a reputation for excellence and is recognized by Canadian and international producers as one of the best rental and sales firms in the world. Whites is also partners with Vilmos Zsigmond in Sparks Camera and Lighting Ltd., a leading Budapest, Hungary-based provider of motion picture production equipment servicing Western and Eastern European producers.
Whites continues to lead the entertainment industry in becoming a green supplier. The goal of the ongoing Whites Goes Green™ initiative, launched in May 2007, is to reduce the environmental impact of Whites' production equipment and business operations as a whole.
Whether theatre, television, digital media or a grand scale movie production, when it's all said and done, there are hundreds of behind-the-scenes people who collaborate to produce superb results on the screen. The dedicated professionals at William F. White International are proud to be recognized as an integral part of the motion picture and television industry in Canada and throughout the world.
---
Featured Decor Sponsor – Decor and More
Decor & More Inc. is Canada's largest and most awarded event design & decor company. With over 20 years of creating leading edge events in Toronto and beyond we offer a broad range of services and expertise to help make your event distinct and memorable. Decor & More is your one stop shop for event decor, florals, furniture and more.
Decor & More is not your average decor house. We take the "more" extremely seriously in both our customer service philosophy and the breadth of services that we offer. From florals to graphics, custom environments to unique lounges, an in-house sewing studio and designated event coordinators we are uniquely positioned to create event environments that are sure to WOW.
At Decor & More, we are designers of distinctive events. We don't do "cookie cutter" and we believe that one size DOESN'T fit all. Our dedicated team of designers and event coordinators will help you to translate your vision into an unforgettable event environment that is sure to keep your guests talking.
---
Featured Vendor – Opulent Cake Company
Cake artistry  is the perfect marriage of food and art. Opulent Cake Company makes cakes as their  canvas, Cake décor is  brought to life and all the while tasting so sweet and decadent. Angela Antonistan  enrolled in the chef school at George Brown College, then onto Bonnie Gordon College of Confectionary Arts for their Designer Cakes and Baking Essentials programs and graduated with Distinction. It was an eye opening experience and she is constantly trying to perfect her skills at baking and decorating.
Her goal is to share her love for sugar and art. "I want to appease all five senses when experiencing my opulent creations for your milestone moment. If you like what you see, then I would love to create something special just for you".
---
Featured Event Sponsor – Nature Clean

It's really just a love story…
"In the early 1960s, our mother suffered allergic reactions to the harsh chemicals used in traditional household products. To help her, our dad began developing his own natural formulations. Since then our family has continued the tradition of creating healthier, non-toxic alternatives for the products we all use in our homes everyday."

"We constantly strive to create great products that are safe for your family, your health and the environment. And not to mention they work well too!
All Nature Clean products are non-toxic and biodegradable and are created from naturally derived ingredients. We follow strict guidelines from groups in the US and the European Union when choosing our ingredients to ensure that we avoid any possible suspected carcinogens (cancer causing chemicals)*.
Our chemists formulate Nature Clean products to be the safest and greenest options available, without reducing their cleaning effectiveness. Our products are always tested in-house to ensure they meet or exceed our high standards. We then send our products to independent labs for further testing to make sure that they perform as well as, or better than, traditional cleaning products."

http://www.naturecleanliving.com
---
Featured Event Sponsor: Kings Promotions
At Kings Promotions we create events that are unique to your wants, needs, and budget.
We take great pride in making sure the smallest details are taken care of, and will work with you on a one on one basis to ensure that all your wants, needs, questions and concerns are answered.

We have experience organizing Corporate Events, Fundraisers, Social Functions, Product Launches, Bachelor Parties/Stags, Jack and Jills and so much more.
Kings Promotions treats every client like royalty and we look forward to having you join our list of repeat customers.
http://www.kingspromotions.com/
---
Featured Vendor: T By Daniel

"We are passionate about 3 things: Tea, People, and Experiences. At T By Daniel our goal is to ensure when you meet us, either in person or online that you are educated about our teas and products, and you receive a special and quality experience. Each and every time.

T By Daniel is the funky, modern tea company, that focuses on selling tea in a very fun, interactive and stylish way. Or focus is to bring you the most exciting and unique tea concoctions we can find on earth, for you to enjoy in the everyday adventures of life. We believe that tea and fashion go hand in hand, which is the main reason why T By Daniel has also expanded into selling our own line of bowties.
---

Featured Dessert Vendor: Le Confetti Gourmet
Le Confetti Gourmet is very proud to bring the most tradicional handmade Chocolate Truffles to Canada.. In Brazil we call this Brazilian Sweets Brigadeiro and every single one is made to order with only the best ingredients ,by hand,every step of the way with lots of love.
 We cater to all events!
Facebook:
https://www.facebook.com/Le-Confetti-Gourmet-497907727033888/?fref=nf
---
Featured Vendor: Heavenly Pleasures

Heavenly Pleasures is a custom adult gift bags & products company catering to the grown & sexy clientele. We provide clients with the opportunity to customize their own gift bags/boxes filled with a wide variety of products such as adult toys, lingerie, sensual love items and much more OR clients can choose from 1 of our 6 themed bags and have it shipped or delivered to its destination (delivery-within the GTA). The gift bags are delivered discreetly to whom it was made for, whether it be a surprise or expected gift, its guaranteed to be bring smiles.

We provide gift bags for Birthdays, Weddings,Bachelorette Parties, Event Promotion, Girls Night In or Just Because….(NO REASON NEEDED!!)  All bags are customized to the clients theme.


We believe that intimate encounters should be FUN, HEAVENLY and full of ROMANCE. Set the mood right right  with a Heavenly Pleasures gift bag!!
"After all, everyone deserves a little touch of heaven"
---

Featured Food Sponsor: Molisana Imports 
Molisana Imports has been representing Italian brands in Canada for over 35 years. Our founder, Pasquale Di Biase, acted on his vision to satisfy the needs of Canadians by importing the best quality Italian products to Canada. Molisana Imports has been representing brands like La Molisana, Colavita, Scotti, Ferrarelle, Fiuggi, and many more, successfully through an array of expertise. With owned and partner warehouses and logistical capabilities, Molisana Imports can efficiently manage the demands of suppliers, retailers and most importantly our consumers that expect the best service and product availability at a competitive price nationally.
Our team is driven by a passion for food especially great tasting Mediterranean cuisine. We offer a full service turnkey solution for quality brands that fit our vision. Our dedicated team works tirelessly to provide the best service including logistics, regulation, retail management, sales and marketing management and order to solutions.
Please explore our brands, recipes, retailer partners and join us by following us on social media for the latest news from Molisana Imports.
"Buon Appetito!"
---
Alcohol Sponsor: Steamwhistle 

The Steam Whistle story begins in the spring of 1998 when three friends were on a canoe trip in the Ontario heartland. Greg Taylor, Cam Heaps and Greg Cromwell had all been colleagues at one of Canada's premier microbreweries producing quality beer in the late 1980's and 90's – before it was bought out by a national brewer and closed down. As they sat around the campfire, the self-named "Three Fired Guys" dreamed of running their own brewery one day.
They wanted to make a Pilsner that would compete with the best in the world. They wrote a plan and quickly attracted investors with their vision and passion.
We believe that world-class results require focus and dedication, so we developed a distinctive recipe for our single brand based on Europe's renowned brewing standards yet is brewed fresh locally at our independent, Canadian Brewery.
We use traditional brewing techniques and only four natural ingredients including spring water, malted barley, hops and yeast – all GMO-free. There is a fifth ingredient in every refreshing bottle, and that is the passion of our dedicated Brewmaster and staff.
http://steamwhistle.ca/index.php
---
Featured Swag Bag Sponsor – Purely Great Deodorant
Recommended by dozens of health-focused writers, athletes, yogis, moms, eco-bloggers and TV personalities, our natural deodorant leaves you smelling great all day, and is a part of a healthy lifestyle for those who truly care about what they put into their bodies each morning.
You might be surprised to find out how many of the manufactured products in your home can leech toxins into your body. As these toxins build up over time, they put your family at risk for a wide range of long-term health issues.
Anything that is absorbed through your skin into tissue surrounding important glands such as your lymph nodes can cause these glands become inflamed, compromising your immune system's functionality. Deodorant is something most people use every day from the time they start puberty. Why take a risk? Give your body every advantage you can by using only the most natural products.
Our promise to you is that we provide the best natural deodorant on the market. It includes only three core ingredients: natural soda, non-GMO corn starch and vegetable glycerin, plus essential oils for fragrance. We also offer an unscented, fragrance free version for those with allergies.
When you choose our products, you are receiving a product that is:
 100% All Natural

 Vegan Friendly

 Environmentally Conscious

 Preservative-Free

 Paraben-Free

 Aluminum-Free

 Triclosan-Free

 Cruelty-Free
To order online:
---
Chloe Magazine celebrates the Journey. Featuring Fashion, Beauty, Travel, Lifestyle and Decor.
The magazine showcases the best of fashion, beauty, décor, travel and lifestyle.
Chloe magazine will be found and going home with you at our fashion show November 6, 2015. Be sure to get yours!
Visit Chloe Magazine website for more information and follow them on Twitter !
@chloe_magazine
---
FEATURED Vendor – arch angeles
Arch Angels started renting decorated arches for weddings and parties back in 2000… Hence the name "Arch Angels".  Today Arch Angels not only offers unique design and décor for home and corporate events, we offer centerpieces, bridal bouquets, seasonal wreaths and so much more!
With the bride's constant requests for jewellery, Arch Angels started carrying ladies fashion accessories including quality jewellery, purses, scarves, pashminas, capes and wraps.  Our fashion line became a hit at many venues including corporate shows, business promotional events and exclusive parties.
Check out our website to see all that we offer.
---
FEATURED SWAG BAG SPONSOR – PREMIUM BEER
PremiumNearBeer.com is your source for premium quality, great tasting alcohol-free beer from around the world. Premium Beer delivers right to your door in Toronto and surrounding areas.
If you enjoy beer but abstain from or want to reduce your alcohol consumption for whatever reason: high performance athletes, weight loss, pregnancy, healthier lifestyles, religion, medical conditions, medication interactions, personal choice, and designated drivers, then PremiumNearBeer.com is for you.
---
FEATURED SWAG BAG SPONSOR- grace coconut water
INTRODUCING brand new Sparkling Coconut Water! Grace Coconut Water is nature's refreshing and tasty thirst quencher with less sugar, calories, sodium, and chemicals than commercial beverages like soda, juice and sports drinks.
100% PURE COCONUT WATER
Simply coconut water. Nothing added, nothing taken away for an all-natural, refreshing taste. No sugar, no preservatives, no water added. See "sugar" on the Nutrition Facts label? That's not added sugar: it's the naturally occurring sugar that all coconuts contain.
COCONUT WATER IS PERFECT FOR ACTIVE LIFESTYLES
When we exercise, our bodies can lose mineral rich fluids called electrolytes. Grace Coconut Water will replace over 600mg of potassium with 6 % of the daily recommended Calcium and Iron in a 310ml serving. Grace coconut water is nature's way to stay hydrated and replace electrolytes with less sugar than other beverages but still with a great taste that you can enjoy.
Pick some up today!  Sold at your favourite grocery store in the international aisle.
---
FEATURED SWAG BAG SPONSOR – Maretti
MARETTI products are olive oil-oven baked, bread-based snack, no artificial flavors or colors added. They are good as plain consuming snack, or beer and wine snack, for dips or quick breakfast snack.  All products are based on unique Italian recipes, Italian spices and ingredients.
MARETTI are created especially for modern  people with contemporary and dynamic lifestyles that are brand conscious, appreciate high quality food, and love snacking. It is a feel-good snack that provides a special treat throughout the day. A snack that comes up with intriguing product concepts, delightful tastes, variety of flavors, outstanding packaging and makes them feel care-free about their daily routines.
---
FEATURED Raffle SPONSOR – KAIA NATURALS
kaia naturals, an indie-eco brand based in Toronto, Canada was created with the essential idea of providing busy women with "fast beauty". Founder Mary Futher is a veteran beauty industry marketer & product developer with over 20 years' experience in the beauty & cosmetic industry. As an animal-lover, she refused to support any actions that harmed animals, which is why all of her products are certified 100% cruelty-free and never tested on animals. kaia naturals is also committed to eliminating synthetic ingredients in their product formulations to deliver toxic-free products.
juicy bamboo is not your typical makeup remover "wipe". It's actually a healthy cleanser with natural oils.
Cleansing with oils, humectants or balms (non mineral oil) will eliminate skin issues overnight. juicy bamboo natural cleansing oil cloths are soaked in honey, jojoba oil sunflower oil and eight essential oils… they may be called a wipe but on the contrary… they are a cleansing oil cloth. Soaked in vitamins B12, C, E.
Without the harsh makeup stripping ingredients of a typical wipe you can use juicy bamboo as a convenient cleanser. Our cashmere-soft 100% bamboo fibers can be placed in the soil and watch them disappear!
100% biodegradable.
For full coverage makeup, you may wish to remove eye makeup prior to cleansing with juicy bamboo.
order 4 boxes to qualify for free shipping
flat rate shipping $10
---
Featured Event Sponsor  – TEMPT CIDER
A product of Denmark, Tempt Cider is new to Canada and available in Alberta, British Columbia, Newfoundland, and Ontario. Celebrating sultry sophistication, confidence and daring, mischief, fun, and irresistible temptation.
Tempt # 9 seduces with strawberry and lime.  combines the sweetness of strawberries with a subtle hint of tart lime. Fabulous served on ice with a slice of fresh squeezed lime, tempting taste buds with its unique, deliciously fresh flavour.
There are no artificial sweeteners, flavours or colouring.
For more product info please go to:
https://www.facebook.com/TemptCiderCanada
---
FEATURED SWAG BAG SPONSOR – fudi
Only a generation ago, every meal started with a simple trip to the neighbourhood farmers' market and corner butcher. The ingredients were local and real, filled with heart-warming flavours unique to the world just outside the front door.
füdi specially prepared foods take you back to those honest-to-goodness times. Every hand-selected ingredient we slice, dice and add to our gourmet recipes is sourced right here, where good things grow, in Southern Ontario.
Through an all-natural, preservative-free sous-vide cooking process, we prepare our gourmet dishes slowly to coax the maximum amount of flavour from every ingredient for every bite. The result is a wholesome selection of international dishes painstakingly perfected to appeal to the discriminating foodie in all of us.
With füdi, authentic flavour is as close as your local grocer; already prepared, so you have more time to get the most out of life.
---
Featured Event Sponsor – Johnnie Walker
An Evening with Johnnie Walker is an exclusive opportunity for Cocktail Crawl Memebers and  influencers and scotch-lovers alike to host a premium experience with scotch. Individuals are hand selected to share a tasting with their networks by hosting up to 15 guests at an at home tasting. The mentorship program is an unparalleled opportunity for guests to deepen their knowledge of Johnnie Walker, through an in-depth immersion in scotch and its history.
How it works?
Select individuals are invited by the Johnnie Walker Concierge to host their own Evening with Johnnie Walker. After the individual confirms their booking date and time with the concierge, Johnnie Walker assigns two ambassadors to conduct the evening. These ambassadors arrive at your home or office with all the tools necessary to execute a tasting and together they guide you through a relaxing and educational experience with scotch.
What to provide?
Tastings are completely free, however hosts are asked to provide adequate table space for each guest to stand or sit in front of, such as a dining room table, coffee table or cruiser. A sampling of berries and chocolate are paired with the product, however hosts are asked to provide food to balance alcohol consumption in the evening.
Timing
Tastings can be arranged between November, 2014 – April, 2015

 Late afternoon or evenings are both options  
Attendees
12-15 guests per tasting  Tasting Length
Approx. 1 hour (run of show below)   Each ambassador will arrive at the host's home with the followiing:
 Johnnie Walker Product
Bottled Water
Tasting Mats
Glassware
Display table &; table cloth
Serving tools (glassware, napkins, etc)
Activity Notes
Time Set-up Ambassadors arrive at the hosts home  30 mins prior
Arrival Host to welcome guests As required Welcome Brand Ambassador introducesJW brand – past and present Presentation  3 mins
The Man Who Walked Around the World 7 mins
Sampling 3-5 variants as agreed  30 mins
Q&A/Informal time  Circulation & Conversation  10 mins
To book – http://www.aneveningwithjohnniewalker.ca
---
Featured  Swag Bag Sponsor – Keep Leaf
Keep Leaf is a lifestyle brand that celebrates and supports great design,ethical production, sustainability, and meaningful causes.
CELEBRATE great design
KEEP LEAF celebrates modern, stylish products designed to last. From reusable lunch bags andbaby bibs to make up pouches and totes, our eco-friendly collection is made for the whole family.
CHOOSE ethical production
We believe in providing a safe work environment that supports long-term employment, education and training for employees. All products are made in a modern, clean & family owned facility.
PROMOTE sustainability
Our collections are designed with the environment in mind, promoting reusable, organic and sustainable products and materials. Join us in our mission to produce less waste, protect the environment, and make the world a greener place for generations to come.
SUPPORT meaningful causes KEEP LEAF is suppor ting FREE THE CHILDREN to help build a school in Rajasthan, India.
Our support will give hundreds of children a chance to get an education, break the cycle of
poverty and build a brighter future for their families. We started with a simple idea.
A simple idea that continues to grow.
Lunch boxes
Make lunchtime fun and colourful with Keep Leaf's stylish insulated  lunch boxes. Features exterior zippered pocket for extra storage. Fully insulated to keep contents fresh and protected. Exterior is made from 100% organic cotton with coating for easy cleaning.
Lead, Phthalate and BPA free. Wipe or rinse to clean. Size: 10"W x 8.5"H x 3.25"D.
Storage Bins
Made from sturdy cotton canvas, our storage bins keep things well organized while looking great! Whether it's toys, books or clothes, our storage bins are perfect for all your storage needs. Available in three sizes with rope handles for easy lifting. Small bin features interior pockets to keep small items organized and within easy reach. Fold up and tuck away when not in use. Spot clean or machine wash. Made from 100% organic cotton. Sizes: Large: 17" H x 15" D Medium: 10.5" H x 10" D Small: 7" H x 8" D.
Carry All Pouch
Slim in design so it doesn't take up much room in your bag. Features: Made from 100% cotton canvas. Fully lined interior. Easy pull zipper and contrast piping. Size: 10"W x 6.5"H
For more info – www.keepleaf.com
---
Featured Event Sponsor – Pure Leaf
Pure Leaf is real tea brewed from fresh-picked leaves with only pure & simple ingredients. No preservatives, no added colour, no artificial flavouring. Our master blenders hand-select the leaf tea from gardens in India, Africa and South America for their smooth, distinctive flavour. Our quality tea leaves are harvested at their peak.
Pure Leaf is available in single serve bottles (547 mL) and multi-serve bottles (1.75 L). Single Serve is available in Lemon, Raspberry and Unsweetened flavours; and Multi-serve is available in Lemon and Raspberry flavours.
Guests attending our fashion show event on November 07 will receive a special gift from Pure Leaf. For tickets go to http://uv.rs/1wLL9bJ
To learn more about this featured product please go to:
____________________________________________________________
Featured Event Magazine Sponsor  – Sharp Magazine
Sharp Magazine, Canada's answer toGQ and Esquire, publish a men's luxury lifestyle compendium called SHARP: The Book for Men. The book features the absolute best in men's travel, watches, fashion, boats, booze and automobiles.
Sharp was launched in 2008 and is published eight times per year. Six regular issues and two "Sharp: The Book for Men" special editions targeting premium and luxury consumers. Sharp is Canada's only national magazine for affluent, influential men, who seek information on premium lifestyle products.
In addition to being published in Canada, Sharp is licensed for publication in Russia as well.
Guests attending our second annual fashion show will receive a complimentary copy of Sharp Magazine as part of our swag bag gift program
For tickets – http://uv.rs/1oKRdOu
For Magazine Subscriptions – http://sharpmagazine.com/
____________________________________________________________
Featured Event Sponsor – MiYu
MIYU is a revolutionary line of skincare and teas designed to make life easier for women in today's fast-paced world through healthier lifestyle choices for their skin. While topical creams and cleansers are still a must, MIYU takes beauty to the next level – aiming to redefine the traditional beauty ritual.
HYDRATE MI BEAUTY TEA
a light and fruity blend to hydrate from within
A light and fruity blend of green rooibos, goji berries, rose petals and snow pear essence – an irresistible way to hydrate parched complexions.
For optimal results, pair with hydrate mi beauty essence.

You'll love it if:
you do not drink enough water, consume too many caffeinated beverages, travel frequently, live in dry climates or just naturally have parched skin.

What it does:
Green rooibos contains nine types of flavonoids to ward off age-accelerating free radicals and essential electrolytes to help hydrate from within.  Goji berries deliver a healthy dose of Vitamin C, necessary for collagen production.
MIYU formulas have been thoughtfully designed for finicky complexions. With that in mind, we make a conscious effort to forgo any potentially irritating ingredients from our skincare. MIYU products are free from parabens, sulphates, phthalates, synthetic dyes & synthetic fragrances.
See more at – http://www.miyubeauty.com/
____________________________________________________________
Featured Event Magazine Sponsor – Dine Magazine
DINE magazine is Toronto's leading magazine for reaching active food lovers who enjoy the dining out experience. Sara Waxman, renowned taste-maker and travel journalist, brings more than 30 years of knowledge to the table, and then invites the reader to join her, whether at restaurants in Toronto, or around the globe. She has dined with the world's most innovative chefs, and enjoyed dishes prepared by the stars of gastronomy.
In DINE magazine, Sara and her team expose what's on the menu in a stylish and delicious tone. With the high standards and well trained taste buds for which this food expert, author and gourmet has become known, Sara Waxman tastes and tells.
DINE magazine is published using solar and wind powered energy, and printed on recycled wood and fibre with bio-derived ink. We are now in the process of creating our 2012 edition, for which we welcome advertising inquiries from the hospitality and lifestyle industries.
– See more at: http://www.dinemagazine.ca
____________________________________________________________
Cake pops are the new kid in town; the cupcake's fun and trendy sister
Cake pops are the perfect little treat for any occasion! Cake and frosting encased in a hard chocolate shell…a guilt-free indulgence! They are decorated with care and most importantly they taste as good as they look! All of our cake pops are handmade, decorated, and individually wrapped with a clear cellophane wrapper and metallic twist tie packaged in a box.  
Officially launched on February 21, 2013, KCNY Treats (KCNY) focuses on delivering delectable and customizable cake pops and cupcakes for people of any age to enjoy. Each treat is handmade by KCNY co-founder and Chief Baking Officer Nhu Yorke, who loves to spend time experimenting with new flavours and cake pop designs.
Nhu is always experimenting with new design creations that make KCNY Treats one of the most intricate and artistic dessert companies in Toronto. Creative is the name of the game! Designs range from fun cartoon characters to romantic roses for that special someone.
Each handmade 
treat is baked with premium ingredients and carefully crafted to perfection for your satisfaction. Whether it's a children's birthday party, wedding, baby shower, corporate event or an afternoon at home, KCNY's customizable treats will make any occasion memorable.
On top of delicious cake pops, KCNY Treats bakes up a heavenly storm with our delectable cupcakes! Hand-baked to order with thrilling flavour combinations, each has a perfect cupcake to frosting ratio guaranteed to win hearts.  We also make cupcake bouquets for any occasion as well as cake pop arrangements.  Visit our site at 
www.kcnytreats.com
 for more information.  To place an order, email us at 
orders@kcnytreats.com
 or call us at

647-778-1114
647-778-1114

.
____________________________________________________________
Complementary to the Freed vision, KingWest is a stimulating lifestyle magazine celebrating Toronto's food, fashion, art and design scenes. A biannual publication with sophisticated photo spreads, compelling and timely feature articles, buzz-worthy business listings and eye-catching, tailored advertising to keep readers up-to-date on the best of a world-class city.
Guests attending our All White Attire event will receive a complimentary copy of this magazine as part of our swag bag gift.
_____________________________________________________________
Freed Developments have changed the Toronto landscape.
As a strong believer of the "live, work & play in your neigbourhood" principal, rather than traditional condo buildings, Freed has set out to build lifestyle hubs. A playful avant-garde lobby designed by Philippe Starck with a peaceful inner courtyard. Glass-walled, loft-inspired spaces designed to maximize natural light. Breathtaking rooftop pool and lounge areas. All in prime locations, just a few steps from everything. Walk to the hippest hotel lobby bar in town from your condo at the Thompson Residences. At Muskoka Bay, meet new clients just outside your door on one of the best golf courses in the world. Buy fresh produce at the St-Lawrence Market and be home within minutes to start cooking at Sixty Colborne. Each living space Freed builds is an expression of lifestyle through architecture and design, its ultimate purpose to enhance the life and human connectivity of its community. Live better, live Freed.
Freed Developments – THOMPSON RESIDENCES
Innovative features, meticulous details, the finest finishes, and an undeniable uniqueness throughout. All brought together behind a striking glass façade that lives and breathes the city.
http://thompsonresidences.com/
Freed Developments – Fashion House
With an impressive 150-foot frontage on King Street West, this project connects the past and present by combining the restoration of a Silver Plate historic building with a sleek new glass construction.
http://www.fashionhousecondos.com/
_____________________________________________________________
The first ALT Hotel to be built outside of Quebec is now open and welcoming guests at Canada's leading airport, the Toronto Pearson International Airport. The modern 13-floor, 153-room hotel occupies a prime location adjacent to the airport terminals at the end of the LINK train line that runs every five minutes, 24 hours a day, seven days a week.
After the holidays come the 99 days of ALT!
The new no frills-chic ALT Hotel Toronto Pearson is starting the New Year off with 99 days of ALTernative hospitality for $99. That is a 30% discount on the standard daily rate of $149 for anyone traveling between January 1st and April 9th. What better way to start a winter vacation than a good night's sleep in an ultra-comfy bed that is a mere seconds away from Pearson International Airport's terminals? Need to park while on vacation? Stay one night and park inside the economy parking lot for 8 days for $169 or stay one night and park for 15 days for $239! Take the quick LINK train to shuttle, free of charge, between the parking lot, airport and our hotel.
Cocktail Crawl blog reader PERK
Cocktail Crawl Social Club members can  receive a $10 voucher to use toward any of the fresh and healthy items in the hotel's ALTcetera menu, items such as delicious freshly baked croissants in the morning, the most flavorful gazpacho North of the 401 or, our  personal favorite, the curry & coconut milk chicken… All you need to do is mention this blog post when reserving over the phone at 1.855.855.6080
1.855.855.6080 or enter promo code BLOGPERK when reserving online at althotels.ca.
Home Decor
As the New Year is fastly approaching why not update your home decor with some of our inspirational  home decorating design ideas
_____________________________________________________________
Some classic Italian architecture that has inspired our creativity ! Can you name these beautiful destinations?